The UK Six Metre Group in Jordan
By GJ4ICD, G0JHC, DL7AV, G4CCZ, G3KOX, G3SED, and G3WOS.
Check out
the video
recordings!

Click Here to see the original permit for 6m operation in Jordan.
The DXpedition to Jordan made about 1800 QSOs on 6m with about 1200 different callsigns in the log. A fantastic 49 countries were worked, including the USA! When combined with the thousands of stations worked on HE, all this went way beyond our expectations. The story begins!
For some time the UKSMG Committee had been wanting to organise a significant 6m DXpedition to a country not activated before on 6m and in Sporadic-E range of most European countries. Having read an interesting interview with H. M. King Hussein, JY1, in the June 1993 edition of Radio Communication, Chris, G3WOS, wondered whether we could go to the Hashemite Kingdom of Jordan as 6m had never been activated from there before. It was learnt from the article that Robin Bellerby, G3ZYE, whose involvement in the Anglo Jordanian Society was instrumental in arranging the original interview, so Chris wrote a proposal in September 1993 and asked Robin to take it up with the Palace in Amman. On December 1st 1993, we received the great news in a fax from the Private Office Of His Majesty The King, stating "Permission has been granted to operate an experimental 6m station by the Royal Jordanian Radio Amateur Society"- success! Thanks for your help Robin! We had some six months to get ourselves organised! Chris proposed that the station be active for the whole of June. This was for two reasons, firstly to ensure that we took advantage of every sporadic-E opening to work as many stations as possible. It was good that we actually did this as there were several days when there was no propagation at all. As you will read later, the first week produced very few long haul openings. If the DXpedition had been organised for only the first week of June, only a few lucky amateurs would have worked the station! The second reason was purely selfish! All the operators wanted to work Jordan as well! By January 1994, all the operators had been confirmed and schedules agreed. The JY7SIX operators were to be: 29th May - 7th June, Neil - G0JHC; 29th May - 11th June, Geoff - GJ41CD; 2nd June - 12th June Nick G3KOX; 12th June - 22nd June, Tom DL7AV; 18th June 28th June, Paul G4CCZ and Mike - G3SED, and the tail-ender, 12th July - 19th July Chris - G3WOS. Each team member was delegated certain tasks and the next few months soon passed. After many hours on the telephone and fax most issues were resolved, some only days before our departure! Due to unforeseen work commitments Chris, G3WOS, was unable to travel as planned in June but did manage time off for a week in Amman in early July. The Amman Marriott allowed us to keep the 6-element beam on their roof, so extending the operation a little longer than planned. The downside of this was that Tom, DL7AV, had a few days in the middle of his schedule when he would be alone.
The DXpedition was to be based in Amman, the capital and largest city of Jordan. This is located in the north-west part of Jordan around sixty five kilometres to the cast of Jerusalem in KM71wx. It is probably worth saying at this point that the great majority of the Jordanian people are Sunni Muslims. Shiite Muslims form a small minority. Christians, about one third of whom belong to the Greek Orthodox church, make up about 5% of the population. Islam is the state religion and Arabic the official language.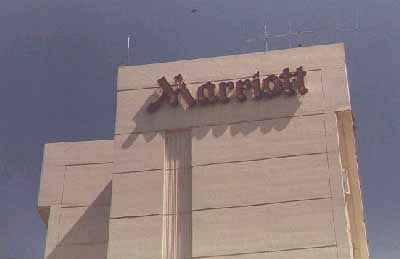 The 6-element antenna on the roof of the Marriott
As this was to be a VHF DXpedition, the location of the station would be all important. Amman is built on seven jebels, or hills, but seven hills mean that there are seven valleys! These are very deep, so pick the wrong place and our 6m signal might never escape at all! Fortunately it was soon discovered that the Marriott Hotel is located very high up, on the most north-westerly of the jebels. The management at the Marriott was very accommodating and a few faxes led to their agreement that we could put an antenna on the north western comer of the hotel roof and be allocated a room on the 15th floor just below the antenna position. The room occupied by the DXpedition became the infamous room #1533, well know to Jordanian amateurs throughout the city. if you look at the photographs accompanying this article you can see that the antenna was actually 200 feet above the ground with a clear take-off to the horizon in ALL directions. When pointing towards Europe the big tower on the horizon turned out to be the local ch3 television location. Licences were received from Mohammad Balbisi, JY4MB, Secretary of the Royal Jordanian Radio Amateur Society who also agreed to give us the special callsign JY7SIX. We had hoped to use JY6SIX but the '6' prefix was reserved for Jordanian club stations only. Still, seven is only one digit away from six! This is a good time to thank Mohammad for all his help. He spent a lot of time with the operators while in Jordan helping them with the Organisation and, as you will read later, taking the operators to some of the marvellous sights in Jordan. Now is also a good time to thank our sponsors without whose help the DXpedition could not have gone ahead: South Midlands Communications, Nevada, ICOM UK, Waters and Stanton, Kent Keys, and RN Electronics. Thanks guys, we could be talking to you again next year!
At the beginning of May we received an unexpected telephone call from Roger, G0TLC, who had seen our DXpedition plans in the RSBG Radio Communication magazine. He said he was going to Amman on business later in the month and offered to take the 6m antenna and store it at the hotel to help save the group shipping costs. In hindsight this was a bad decision, as, contrary to expectations, the antenna became caught up in red tape in customs and took some effort by Mohammad to free it after the team's arrival in Jordan. A lesson learned!
Friday 27th May The end of May soon arrived and Geoff, GJ41CD, flew over from Jersey to be met by Graham, G8HVY. The pair of them spent Friday at Nevada and SMC collecting everything from radios and masts down to fuses, nuts and bolts. A short call at Steve, G4JCC's, home to collect the 2m station saw all items on our check sheets collected- Neil spent Friday evening with Chris, G3WOS, allowing time for a few hours sleep before an early rendezvous at Heathrow airport the next day.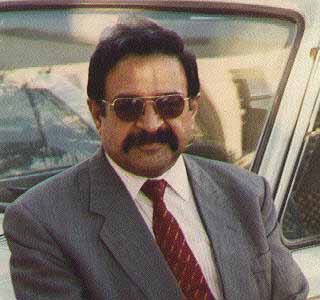 Mohammad Balbisi, JY4MB.
Saturday, 28th May Royal Jordanian Airlines check-in staff had already been briefed in advance of their arrival and after a short wait they were greeted by a smiling gentleman and an "Oh, you must be Mr Brown and Mr Carr!" ' While sorting all the customs papers out, the flight cases, radios, and antenna hardware had been cleared and it was soon time to board flight RJ-118 bound for Amman via Berlin. Departure was on time at 1025. Arrival at Queen Alia airport was on schedule at 1930 local time. When they stepped off the 'plane they were met by a palace official who was spotted holding up a notice reading 'UKSMG'. An invitation to rest in the VIP suite was gratefully accepted while the equipment and cases were collected. In VIP lounge one, Mohammad Balbisi, JY4MB, Secretary of the Royal Jordanian Radio Amateur Society, provided a warm welcome. After a few Arabic coffees it was soon time to leave. The equipment had been located and loaded into an awaiting van. Once through the arrivals hall the rather warm evening temperatures soon reminded Geoff and Neil they were in the Middle East. Mohammad showed them to their vehicle and Geoff promptly attempted to get into the driver's seat, before being reminded he was no longer in the UK! it was nice to re-enter an air conditioned atmosphere. The sport for the forty minute drive into Amman was provided by a silver palace Mercedes driven by a driver in palace uniform. Style at its best!
The Amman Marriott Hotel appeared in the still night air at around 2200 local time, high on the hill above the city. Moharnmad helped them check in and after a little confusion regarding the actual room we required and why we wanted it (i.e. the one furthest away from the TV antennas and facing north west), Geoff and Neil checked into room #1533 on the top floor. A rather exhausted porter arrived with the luggage and it was time to unpack. Mohammad bid them good night and returned home.
Sunday, 29th May By 4 a.m. the operating table, power points and the Yaesu FT-650, loaned by SMC, had all been arranged. A dipole had been taped across the hotel window just in case a signal could be heard but the band appeared dead and more importantly QRM free, or so it was thought at the time- After two hours sleep it was time to investigate the roof 6 a.m. is a good time to start working as temperatures are quite pleasant (about 25C) during the first couple of hours after sunrise. The group had arrived in Amman towards the end of a period of unusually hot weather for the time of year, daytime temperatures reaching 38C. Later on in our visit things seemed to settle down at a much more pleasant 30C. The Marriott. and most of Amman, is located at around 3000 ft above sea level. The Dead Sea resorts in the Jordan Valley at 1000 ft below sea level, and daytime temperatures were reaching well over 40C!
Back on the roof they quickly decided what needed to be done, Geoff headed for the maintenance department in the basement and Neil started to build up the 10m vertical and tune it for 28.885MHz. During this time it was essential to keep in contact to solve the few problems we encountered. Two dual-band Yaesu hand-helds, loaned by Richard, G4CVI, provided good communications around the hotel. The assistant hotel engineer provided his services and drilled holes and mounted the brackets as directed. By mid morning the HF dipoles had been erect a the 2m 9-element beam was in place and the 10m vertical was tuned and installed. Mohammad telephoned to see bow things were going and arranged to call by a little later. In fact, he called by at least twice most days, checking on our progress and always offering his services if there was anything we needed. Amman has a 2m repeater and a 70cm repeater and it was agreed to monitor the 70cm repeater at all times, so we could keep in contact with him. This arrangement worked very well as Mohammad was never very far away from his dual-band handie.
After a quick breakfast it was decided to mount the 6m dipole on the roof in order to get on the air, with at least some sort of signal. Mohammad was in the process of negotiating the release of the 6-element from the airport customs compound so it looked like it would not arrive until later in the day. Geoff and Neil first checked for TVI on the bedroom TV, all the satellite channels were clear. The 6m band appeared dead with a quiet noise floor. A number of CQs were made from around 0800z onwards. The HF bands were also in a poor state. It was time to sit back and wait.
Around 1300z they established first contact with the UK on 28.885MHz, using an Icom 736, loaned by the Chairman of Icom UK through Nevada Communications. Following this, they started to receive video on 6m and the SV beacon became audible. After a few calls on 50.110MHz, SV1DH (#1) came booming through the speaker at 59+@ At 1353z on Sunday, May 29th, the first 6m QSO from Jordan was completed. Congratulations Costas! Nick, SV1EN, was only, seconds behind followed by SV1OH. At 1355 Angelo I2ADN/8 (#l) portable in JM87 made the first Italian QSO. This was particularly pleasing because a few days before our departure, Angelo had telephoned to ask when would be the earliest opportunity for a QSO, as he was determined to be the first from Italy. To achieve this he planned to drive over 1000 km from his home in Como to Southern Italy in order to get to a good location!
SV1UN and SV1AHP were logged at 1358z followed by YU7AS (#1) the first QSO with Yugoslavia. Other QSOs on day one included YU7FU, SV9ANK (#1), SV7QC, SV9ANJ, YU1EU, SV1WE, SV8CS, 9H4CM (#l), SV9BMC, IT9IPQ/P, IT90SF, 9HlCG, and finally at 1915z the first JY to JY on 6m, when Mohammad, JY4MB (#1), called on his new Icom736. Signals were not strong between our dipole and his 40m loop but nevertheless it was a historical moment. At 1738 7Q7? was heard CQing at RST 319, but no contact was established. Neil later spoke with Ron 7Q7RM on 28.885MHz and he confirmed it was him. Unfortunately Ron was never heard again despite many evening skeds over the month.
On returning to the shack, after an evening meal, the operators were relieved to find the 6m antenna, donated by Mike, G30IL, had been cleared through customs and delivered to the room. it was already dark and too dangerous to erect on the side of a building over 200 ft high, at night. However they took it to the roof and assembled it in the early hours of the morning so it would be ready to mount once light came.
Monday, 30th May At 6 a.m. work began on the final piece in the jigsaw. One or two technical hitches resulted in assembly taking longer than planned so 4 hours on the roof had left both Geoff and Neil feeling a little ill due to the beat. Anyway, the job was completed and they went back down the ladder to room 1533. The station was now producing around 1.5kw ERP from a site 3000 ft above sea level and with a 24 ft-boom antenna over 200 ft above ground, looking straight at the horizon. They had done their bit, all they needed now was for the propagation fairies to do theirs!

A check for TVI showed all the satellite channels still clear, this was important because the Marriott had a video bar with three or four TVs as well as a giant screen tuned to MTV. This was a popular venue for people in the evening so you could imagine the yells and screams if we had interfered with it.

The noise floor on 6m was still negligible. QSOs that morning included ER50K (#l), 9HlGB, 9H5DV, 9H5AB, Z32BU (#l), SV1AHX, 17CSB, F8MP (#l), F5LNU, F6FRR, F1MXE, F9DI, F1SAH, F6CCH, GJ8ORH (#1), and F5LP. The band closed around 1217z.

Listen to the distinctive tones of ER50K as heard in Jordan (tnx: DL7AV)
It soon became apparent there really was a QRM problem now that we had an extra 11db of gain in the receiver. What was thought to have been video from sporadic-E, turned out to be the local TV transmitter only 7 km away in Suweleh. Its 55.250MHz video carrier running 104kw produced S7-9 of hash all over the band. The situation was not noticeable in the mornings because the transmitter only came on at 1100z or 2 p.m. local time. Programming did not commence until 5 p.m., but the test card was always on at least 3 hours before this time. A number of stations commented on using the 55.250MHz Jordanian TV carrier as a propagation indicator. Some were reporting it before it came on the air. At a guess during these times, you were probably receiving TV from Greece, Albania (1st hop) or Syria or Lebanon (2nd hop).

Over the next few days the interference caused Geoff and Neil some real problems. They could hear weak stations calling, but always just below the video level. Whenever they found a clear frequency, defined as an S-meter reading below S8(!), within minutes it was S9+ again. Understandably this caused much frustration with stations who were hearing JY7SIX well, yet could not get a reply, Believe us, it was just as frustrating from our side! Later on Monday, Mohammad arrived and took Neil to the Royal Jordanian Radio Amateur Society club house, at a much lower location just over one kilometre away from the Marriott. Geoff elected to stay by the radio and nurse his sunburn. The 70cm repeater was always kept busy with traffic between the three of diem. If the band opened someone could rush back in minutes.

On arrival at the club station, a group of Jordanians were being put through a CW training program in preparation for their forthcoming exam. It was nice to meet some familiar callsigns from the HF bands and look around the shack of JY6ZZ. The rest of the afternoon was spent touring the outskirts of the city. The band never re-opened that day. in the evening all three went to an Indian restaurant recommended by Dave, OZ3SDL. Dave had been in Amman a few weeks earlier and he called at the Marriott to take some photographs of the roof for us. This enabled us to plan where the antennas could be mounted and which room best suited our needs. Thanks Dave, the information you gained was very useful. Geoff, as always, demanded the hottest entry available and Mohammad arranged in the local dialect for it to be that little bit 'extra special'. Geoff was up early the next morning, feeling a little delicate!

Listen to Geoff, GJ4ICD, operating JY7SIX as heard in Germany.
Tuesday, 31st May 6 metres opened at around 0737z with 9H1ET, 9H1FL, 9H1AL, 9H1B, and 9H5ET all in the space of a few minutes. Between 0859z and 1022z F1JG, F1FIH, LZ1KDP (#1), LZ2UK, IV3VFP, Y07VJ (#1), OZ3ZW (#1), YU70AU, OZ5GF, DJ4SO (#1), OZ1GML, OZ1ELF, OE5OLL (#1), IK0FTA, I0CUT and OZ1BVW were logged. The 5B4 beacon could be heard all the time on tropo at a distance of over 400Km d we we' pleased to make a contact that evening with 5B4JE (#l) at 1557z. Nick, G3KOX, was due to arrive on Tuesday, but due to a traffic accident that blocked the M25 close to Heathrow airport, he missed the flight! Because of this he did not arrive until the next day.
Nick Arrives
Wednesday, 1st June The band opened at 0822z with Sziggy Y02IS, quickly followed by ES6PZ (#1) and OH2TI (#1). At 0830z our first G called with Brian G3HBR taking the honours, followed by G1SSL, G8BQX, G3JVL, G4JCC, 2E0AAX (the first UK novice), G4CCZ, GW3LDH (#l), IT9DEC, LA9ZV (#1), G3WOS (after a 100mph dash home from work down the M3), SV1AB, OH5NR, OH2BC, OH2BUW, OH7XM, ES5DE, OH2BGN, OH2BNH, F5SRH, SM3EQY (#1), ES1CW, OH2AC, OH2BN, OH1AYQ,, OH1AWQ,, SV1EF, Y07VS, SM3JGG, YU1AD, DLlMHO/YO7, S59A (#1), YT1IQ, YT1AU, DL7QY, S53ZW, 9A2SB (#1), S57AC, YU1QC, IK1EGC, SV4AFY, SV4AAQ, IK2GSO, IK7UXY, IK3DLD, I4SJZ, and 17UNU. The band had been patchy most of the day, apart from the very strong signals from OH and there were long gaps between stations. Conditions faded around 1900z. A knock on the bedroom door confirmed the arrival of Nick, the remainder of the evening was spent in the bar with regular checks to confirm six was dead. Neil's day off had been arranged for Thursday, leaving two operators in the shack.
Thursday, 2nd June Neil was up at 5am to take a day trip to Petra. He would not get back until 8pm, which is a long dose of hot sun, but he had enjoyed the sights so much he did not mind having missed the best day on Six so far. Over 130 stations were logged between 0530z and 1830z. New ones worked were: R3VHF (#1), S51ZIO, SM6CMU, S57O, 9A2RA, YU1ABA, G301L, G7AIC, G7EXO, G3NSM, I4CIL, G8HVY, EI7GL (#1), G4UPS, G4FNI, G8FUO, IK4DRY, G4BUE, G4MKF, S57AC, I2JSB, G8XZO, S51GW, S51UF, G3UKV G0CUZ, S57MC, S53ZW, OZ8RW S52ZW, SM0AJU, SL0ZG, OH1NSJ, Y09IE, PE1LCH (#1), PA3BFM, DK2PH, DJ5QX, SM7AED, DK3RV, PA0BFJ, SM7FJE, DF7VX, DL6YDH, DJ0IZ, DL3YEE, DL3HRM, DL5BAC, IK7LMX, DL2NO, OZ5KK, DK7ZB, SM7SPG, DK80K, SM7BAE, DJ9YE, OZ1DCQ, SM7CAD, YU1QC, YU7AU, OZ1IEP, OZ3AEV, DL9USA, OH3XA, OZ1LO, CT1BH (#1), LZ2UU, SP4TKK (#1), OZ4VV, DF5LQ, DF9CY, 9A3FT, DF5LQH, OZ1ASL, OH3MF, ES6QB, OH2OH, OZ1EKI, Y04BZC, YU7KW, PE1MKV, LA9DI, SP5EFO, LZ3SM, LA9DM, LA1QCA, SM6MPA, YO9IS, 9A2WM, OZ6AQ, 9H1PA, 9H5EE, 9H1BT, 9H1AA, CN8ST (#1), and 9HlAL. A very good day indeed!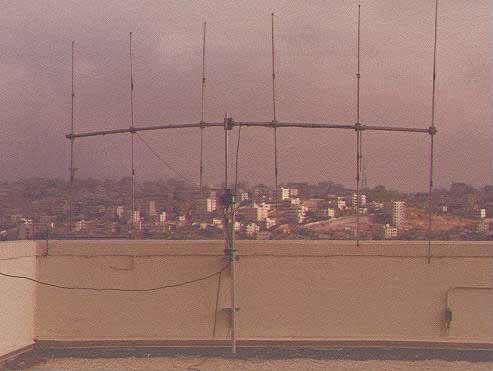 The vertically polarised antenna on the roof of the Marriott
Friday, 3rd JuneMany dupes were entered in the log so it was guessed that propagation was to the same areas as the day before. There was also some good openings to G. Starting at 0529z new stations logged were; PA0HIP, PA2VST, PA0ERA, G4BWP, G3SYC, G3OHH G3MY, G0EVI, G0EVT, DL6NCI, DJ3TF, G0JJL, G3IBI, SV8RV, OH3MMM, OK2JI (#l), ES1AA, EU1AA (#1), OE5NEL, OH1IR, SV8ZH, PA3FYM, PA0JMH, DL2ML, OK1VBN, DJ4AX, DL9GS, G3BJD, DL1EAP, DL1OY, ES2XM, DL9NDS, PA0BM, DL5KAT, DJ5JK, OE2UKL,DJ5JK, PB0AJA, HB9RUZ (#1), PE1NHA, ON4GG (#1), ON4ANT, DF1NP, IT9SGC, PA1PAU, DL3RBH, PA3GAN, PA0TLX, PE1NSE, DJ8ZJ, DL3YEL, ON5SE, DL1DCL, G1AAP, G8VR, DL5BBW, G3MCS, G0FYD, G0NYL, G3KNU, PA3DOL, G3CCH, 9A2OB 9A1CAJ, YU1MW, 9A2OM, and 5T5JC (#1) and best DX at 5004 km for the moment at least, YU7CC. The band closed around 1800z.
Saturday, 4th June This was the UKSMG contest day, the day we had all been waiting for! Remember 1993? It looked promising early on with some of the regulars calling in from 0700z onwards, but unfortunately the band folded after only 22 QSOs leaving the rest of the day completely dead. New calls worked during the contest were YU1NW, YU1MW, YU1BT, 9A2QS, 9AlCCB, 9AlCCY, 9A2EU, LZ1ZX/P, F6CER, and F8OP. Later on, Mohammad felt sorry for us and came on the air now that he had put up a 6m vertical and gave us a much needed country multiplier.

Sunday, 5th June Sunday was a special day for the UKSMG and JY7SIX. Mohammad had arranged for a special visitor to come and see the shack. Around 9 a.m. His Royal Highness Prince Raad Ibn Zeid, JY2RZ, arrived at the hotel. Mohammad and Richard Lyon, Manager of the Marriott, meet HRH first, followed by Geoff, Neil, and Nick. The next hour was spent talking about our DXpedition. HRH had a look at the computer log and congratulated us on our "fine contacts". After some Arabic coffee provided by the Marriott in the adjoining hospitality room, the presentation of the JY6ZZ 50MHz Deacon, (built and donated by GJ41CD and Lawrence, GJ3RAX), was made by Geoff in his capacity as Chairman of the UKSMG. Also presented was a Diamond 6m vertical donated by Waters & Stanton for use with the beacon. The beacon is now at the club station and will be installed later this year. Its callsign is JY6ZZ and it runs on a frequency of 50.075MHz.

Propagation can be summed up in two words; totally dead! However, listening to the local TV transmitter at 59+ during the afternoon gave much time to think, especially after JY4MB had called us on 6m stating he was hearing a station calling on his vertical but we were not responding with our 6-element! Thanks to Mohammad's observations Nick came up with a very bright suggestion. Why not turn the 6-element horizontal beam into a vertical position and see if the local QRM from the horizontally polarised transmitter could be reduced? It's not easy turning a 24 ft long 11 kg antenna into a vertical position while standing on a nine inch wide wall 200 ft above the ground. Nick had the courage to do this bit while Neil held onto his feet! Down below in room 1533, Geoff reported on the 2m link that it was sounding good. The SWR was low and, more important the TV noise had been reduced to only s1-2. The sweet smell of success!
Monday, 6th June The band was still in the doldrums with only about one hour of decent propagation starting at 0730z. A lucky few made it into the log on our now vertical 6-element including, SM3ELY, OZ1LO, SM7SCJ, OZ1CLL, SM7AFI, SM7CMV, and OZ1HDF. Performance seemed unaffected and it was much easier to copy weak SSB signals. In the evening . Nick stayed at the station while Geoff and Neil took a short drive for a swim in the Dead Sea. This entailed a journey down from 3000 ft above sea level to around 1000 ft below sea level. The views from Mohammad's 4-wheel drive vehicle were quite breath taking. The Dead Sea is 75 km long and varies in width from 6 to 16km.. The reason for the name becomes obvious when you realise that the high salt content 33%, makes any plant and animal life impossible. The concentration of salt has nothing to do with the sea being below sea level (!) but comes about because of the high evaporation rate that has, over the years, led to the build up of the salt. Whatever the reason, it certainly makes for an unusual swimming experience. The high density of the water makes your body highly buoyant, so drowning or sinking seems to be virtually impossible! Swimming is also impractical as you're too high in the water to be able to make a stroke properly. Of course, you can always float on your back with your hands behind your head and have your photo taken. While putting up antennas it is inevitable that at some point you get the odd cut or scratch, let's just say you know where they are after a swim in the Dead Sea because they sting Re crazy and as for swallowing some water or getting it in your eyes, the least said the better'

Neil Goes Home
Tuesday, 7th June Tuesday saw a few more new stations in the log, all before 1000z; SM6FHZ, SV8YM, ES5MC, ES9C, DJ1OJ, DK0IG, I6CXD and YT5IQ. Neil started his journey home, leaving for the airport around lunch time. Thanks to Cliff, G1IOV, for arranging transport from Heathrow back to Chris's house. A tip, if you ever leave your car with G3WOS, make sure you don't park it under the big tree, where the birds obviously sit!
Wednesday, 8th June
A poor day, with only 9A3AQ, 9AlCRJ, IK8MKK, SV2KD, and SV8QG logged as new ones. Today Samir from the Royal Jordanian Airlines publicity department paid us a visit and asked if there was any thing further Royal Jordanian could assist us with. Geoff thanked them for their offer and stated how impressed our group had been with their helpfulness.
Thursday, 9th June
At long last, Thursday brought the first of the really big openings. The band was open from early morning until late evening. G3KOX and GJ41CD shared the operating during the day and at 5 p.m. Mohammad took Geoff on a trip to Jerash and the mountains to the north of Amman. On returning at around 9 p.m., Nick was discovered in a state of total exhaustion and was more than happy to see another operator! The log for Thursday contained nearly 400 stations. Only new stations are listed below: IK8AUC, 9H1AZ IK8FPD, SP6HEI, 9A2EY, I0AUC, IK3GHZ, IK7IMO, I0JX, IT9NAN, IK5OIY, IT9CHU, PB0ALN, IK7BFD, PA3FBN, PA3BGM, PA0LOU, ON7QP, OH5LK, G8CUB, G7AJT, PE1OUC, G1TMD, G8PKN, G7LIJ, G6HKM, ON4PS, G3PMX, G4lFX, G7RRD, ON7UC, G1EUV, F1DSX, G3CEJ, G6CRX, G3COJ, G4FRD, 9A2AJ, 9A2TK, G3NOH, ON7KP, G7FJT, IV3VFP, G8DJW, OE6DGG, F1BBU, G8LHT, LZ1UKP, G8GVS, OZ6OL, G7ARW, OZ1CDE, OZ1KCX, GD3AHV (#1), OZ1JSP, PE1LCU, G7PIK, G8BMJ, G0ISW, DK5RQ, G8GXP, I8WES, G3IMV, G0JFW, OZ1BUR, I0AMU, GW8FKB, G1WPR, PE1HXD, G3KPT, G0JHC (another l00mph dash home from work!), G6NB, G3VYF, PE1GRJ, OZ1JPV, G1AHM, G4JLG, LZ3UF, IK4ORY, DL9UDS, G1IOV, G6YIN, GW6VZW, G6YGP, G3KLL, SM0AJU, G0MZO, GM4WJA (#1), G3NVO, G1FYC, G7JYY, G6TAI, G0IMG, PA2CHR, DF8LC, G7ETZ, G7DND, S57MC, G1OIB, G3TJW, G8BDZ, G4XED, S55HH, GW6ZMN, G1WYC, DL5BAW/A, G1LMC, G1CBF/P, G1SDO, 2E1BMU, G3RZA, G3AKU, G0GKC, G2UT, G1VJP, ON1AZB, G8HGN, G7FMW, SV8RV, G1RGQ, F6ECS, G7IBP, G1HQQ, G1ZCK, G0UPZ, G3EDD, S57A, G8GRT, G4KWR, S59YD, OM3LQ (#1), S52PS, I5MXX, IK1SLI, I3ZVN, LX1JX (#1), G3TJW, PA3GML, PB0ALN, G4OBK, YU1AU, OE5NNN, DF2UU, DL8FCL, DF6NA, DL2NAI, OK1TS, DK5UG, OK1FAV, DJ3FI, DL4RU, YU1NR, DL2NAI, DL6YCY, PA2TAB, PE1MCD, ON1ANK, OK1FAV, OK1IBL, PA0LOU, DL1RX, OH3XA, YZ1SM, PA3FUH, OK1VQ, OZ2LD, PE1LAU, SM7DKF, OH7RJ, SM7DTT, OZ1KSN, OZ9AFN, DJ6TK, OZ1MAD, SP5NHF, OH1LEU, DL9GKA, DL2VAA, DL7ARM, LA2AB, SP6BTI, DL7ARM, OZ4D, SP6GZZ, DK2PR, DL9UDS, SP4CHY, OZ1PVC, DL2HX, DF9CY, DL7UO, DL7ANR, DK1KO, DJ9KG, OK1MJL, DL1VAA, OZ7YY, PA0LSB, DL3HRM, DL4OL, OZ1IZB, OZ7SIX, DL2CK OZ1ACV, OZ3FYN, OZ1LFW, DL2HYM, DL9GKA, OZ4EM, DL7UOB, DK5FA, SP9MRK, DL1VSF, GM3WOJ, PA0RDY, OZ1CJX, PE1DAB, GM4ILS, SP5TAW, DL6HCE, OZ5IQ, YU7KN, DL8HCZ, DF7VV, PE1FEI, DL7UME, DJ7OF, SP5CCC, DL7ULM, DL1YDK, DF7VO, DF6NA, SP5VIQ, PE1JWV, DK3RV, DL2LVM, PE1OGF, DL3AYS, DJ4ZB, DK2SS, G4XNS, DH0HAR, G3JOC, SP7JSG, DK2ZF, DL8LAQ, PE1GNP, GM1TDU, DL2EAD, PA3DYS, PE1EBJ, GW8ZCP, PE1AED, DL8FBD, PA0EHA, SV7CO, ON1ARQ, G4SEU, PA3FXW, DL6NBR, ON9CFR, SP3UCA PE1PPR, DL6FBJ, DF5BN, DF3IU, DL4MDQ, DL9GU, DL7AV (Tom managed a QSO just a couple of days before flying out to Amman himself), DL4SEC, PA3FIZ, PA3GMD, DL2GBT, DL2HWA, DJ2YF, DL6WT, ON1BTH, G4EHD, 5B4AAI, DK5PD, ON4RD, ON4FZ, DL8BC, DL2NUD, ON1LNS, DL3IAL, DF4IE, DL8PM, DL8BC, DL2SAD, ON4KST, DK7SP, WD4KPD (#1), PElMFB, and ON9CFB.
The WD4KPD QSO took place at 2145z. After a long day Geoff and Nick were laying in their beds, shattered. The CQ keyer was calling every thirty seconds on 110, but the band was silent. Suddenly, a weak CW station broke through the noise. It was quickly identified as WD4KPD, but completion of the QSO took about 10 minutes, due to deep QSB. Nick then phoned Gene, W400, who alerted other US operators, which he did, but no other US stations were heard during the whole trip. At the time of the contact 6m appeared dead with no indicators suggesting a path was open to the West. A few minutes after the contact, PA and ON were worked before the band finally closed for the evening. From the North American side, it is understood that 6m was open to CU and 48.250/48.242MHz video was audible in many eastern states. WD4KPD is in FM15, a distance of 9775 km from Amman! He runs a Yaesu FT726R, TE-Systems amplifier with 140w output to a 7-element beam. it is 25 ft high and surrounded by trees (thanks to W31WU for information). There can be no suggestion of transequatorial propagation link-up due to the east-west path, so it looks like at least four hop Sporadic-E. This contact was both unexpected and amazing!
Friday, 10th June Conditions deteriorated rapidly on Friday, which came as almost a relief. In the early morning several new stations were logged including; 9H1BN, 9H5ET, 12WSG, IK8DYD, 14XCC, 9A2BJ, 9A2BZ and 5B4AAI. This left time for Geoff to do some last minute shopping and telephone Janet his spouse, who had been left at home in Jersey holding the fort. Inevitably Friday night was a late one with Nick's bottle of Scotch ending up empty in the early hours.

Tom Arrives, Geoff and Nick Leaves.
Saturday, 11th June. Saturday was time to say goodbye to Geoff. After two weeks in Amman he was son-y to leave but was hoping to return in the future. Meanwhile, back on the radio, Nick held the fort awaiting the arrival of Tom, DL7AV, who was due to arrive that evening. Torn landed in Amman after a long flight via Paris at 21:30 and said hello to Mohammad and Nick. it is a pity that Nick had to leave for Jericho the next day as this meant Tom was to be all alone! Unfortunately, Tom's first day in Jordan was recorded by a dead 6m with no new contacts made.

Listen to Tom, DL7AV, having more difficulties operating JY7SIX as recorded in the JY shack.
Sunday, 12th June. Though Tom never really understood Nick's keyer, he got along with it just fine by using his own single-lever paddle and had no problem putting the QSOs into the computer with his left hand. Also, the man-made noise seemed very high, maybe it arrived at Amman via the Ionosphere? When there were good conditions in central Europe there was always TV noise in Amman so he had to continually move around between the video noise peaks to find quite spots. The WARC antenna worked fine for him, but for some reason the 10/15/20m dipole did not.

Six was dead in the morning with DK0WCY reporting undisturbed propagation conditions. Z21 AN13 was a good signal on 28.250MHz so maybe there was a chance for 7Q7 on six. The HE station had a much better CW monitor than the 6m one, so Tom decided to have some fun with high speed CW pileups on 18 and 10MHZ, He let the 6m station call CQ automatically and turned to operate on 18MHz. It was Sunday and the demand for JY on 18 seemed to be very high. His best QSO rate was 52 QSOs in 20 minutes.. When Tom heard the video signals come up around l0z on the 6m rig he abandoned 18MHz immediately! A few 9Hs came on the band but nothing, else. Only 49.750MHz carriers and ,here was nothing on 48.250MHz from western Europe except one signal which was probably from OD5. Tom soon noticed that the noise blanket was an absolute necessity as the S-meter sat at S9 without it.

Following a short shopping trip in the vicinity of the hotel, Tom returned to discover that the 48.250MHz TV carriers were very strong and he heard EH3ADW giving a very long CQ call, of course he faded before he could call him. Perhaps there was a moral here? Then Tom's first opening happened! He made 59 QSOS, mainly to Italy, with lots of well known callsigns logged such as 15FLN, 12ADN (now at home), I0AMU, and I0JX, Finally EH3ADW was worked as the last QSO. New calls worked: I0EIU, I8TUS, IK0OKY, I0OEU, F6GNP, SV1OE, IK0RWX, 9A2YF, S53VV, IT9CVO, IK4HAI, I4YHH, IK4BHO, I3CLZ, I5FLN, S54W, IK3HHJ, IK4CNQ, S59DBC, S59DRA, IK5EHR, OK2ZW, 12ADN, S56A, I3VWK, I3LLH, I5QDK, IK0NOJ, IK3GHR, I0DRO, IK0NOJ, and EH3ADW(#1).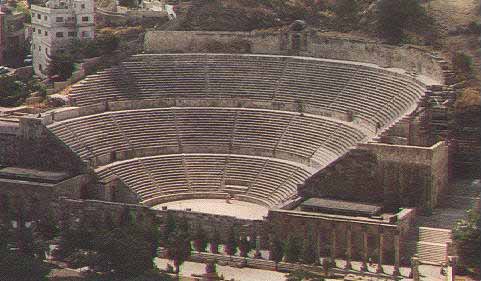 The Roman Amphitheatre in Amman
Monday, 13th June The day started promisingly just like the day of the UKSMG contest. At 0500z 48.250 video was very strong from the East. Could it have originated in Dubai? Tom asked himself whether he would be able to work 9K? He called CQ in a north easterly direction but nobody came back. The only things he could hear on 6m were a few local cordless telephones. After a shopping trip the 48.250 video was still strong and 49.750 was building up from the north-west. At 0900z the YU beacons started to come through. However, all this resulted in very few QSOs and 18MHz was no compensation! Only one new call worked: SV1BGR.
Tuesday, 14th June. Things took a turn for the better with 121 QSOS. There was good propagation to SV in the morning followed by a great surprise at 0850z. Eric, 5T5JC called in with a 57 signal telling Tom that h e had worked 100 US stations on the 13th June. Tom thought that chap must have a jolly good location! No good openings to report after that except EH6FB for a 2 minute opening at 1245z. At 1730z the band finally opened properly. This started with Tom's first real opening into the UK and Germany. However, signals were very difficult to copy as they were fluttery and exhibited sudden fadeouts. He worked OZ3SDL at 1803z and JY7SIX worked Geoff, CJ41CD, back at his home in Jersey. It was interesting to note that he was a marginal copy only and was no stronger than all the other Gs who were around that day! All this was followed by a good opening to Italy and by working six EHs. An IK4 station helped Tom work T70A. Tom had to give the report he received and he received a "good QSO" in response for a 'good' list QSO! HB9QQ was also logged. By this time it was 2300 local time and he was able to go in search of something to eat. New calls worked: SV1IW, EH6FB (#1), F5YM, EH1QJ, IT9THD, EH3KU, I3LDS, DK2EA, IK3GLD, G4IGO, G4CVI, IK3HAR, G1FTZ, G6I0N, G4HBA, OZ3SDL, SM7NNR, G3WZT, OE5PAM, DL3IAE, 9A3HZ, G3VYF, DL1NTC, F8ZW, SM5HGY, GJ41CD, G4AJC, G7GUO, G0TYA, DK2WV, OKIMAC, S53AK DK2BI, G7KAO, G7KHF, DL8SET, PE1OYE, OZ7JV, DL3SAS, GU2HML (#l), G3OUF, G3UOF (very confusing!), GW4EAI, G0OFE, G3SED, G4PYS, SP6GWB, DL2EAA, G4ART, OE6LOG, F6HRP, F6BSJ, F5HRY, G4AHN, G7FKG, G3SJX, GJ6TMM, G1ITE, G1GVM, G8VIO, G0LCS, G1AAR, G3BOC, OM3ID, OK1MDK, G0MGA, EH3CUU, EH2LU, HB9QQ, F8CS, IK2IQD, I2FUG, T70A (#l), F5BUU, IK5PWJ, I2MMH, IK5MEJ, IK1BPO, F1MXJ, EH2AGZ and F6CBC.

Listen to Tom, DL7AV, having more difficulties operating JY7SIX as recorded in the JY shack.
Wednesday, 15th June Wednesday was rather disappointing. All the TV carriers were below s9+l0dB. Tom had a few meteor scatter QSOs into France that were followed by a weak signal from Scandinavia in the form of SM7CMV. He therefore decided that the Dead Sea would be more interesting than a Dead Band so he paid a visit to the travel shop in the hotel and got into a taxi. As it was so hot visibility into the Jordan valley was poor. It got hotter and hotter as the taxi descended the 1400m from Amman to the Dead Sea. Tom said swimming there was 'an experience not to be missed'! The salt water was very 'aggressive', and goggles a must. The buoyancy was so strong that he could not stand on the bottom even in quite shallow water perhaps after all those DX QSOs he felt he could stand on water! But when Tom returned to the Marriott conditions on 6m were not good, so with a sigh he resorted to 10 and 18MHz. The only new calls worked on 6m were: EH7AG and GJ4VXEIP.
Thursday, 16th June This was a good day. At 0800z the TV carriers came up and at 0920z SM7CMV started the day's openings. There was a mixture of single-hop propagation to ER50K and several SVs and double-hop conditions a little later. Again it seemed clear to Tom that these were real double-hop openings, not just an extension of a sporadic-E zone. For example, SM7 was exactly twice the distance of ER, and G was twice the distance of YU. When the band was open to these two locations Tom could not normally hear any stations that were in between. It was also remarkable that southern Germany, being a little less in distance than the one hop, was much more difficult to work than the UK.

Tom worked 82 stations between 0930z and 1200z. G10OTC and DL8HCZ were in and ON7UC was Perfectly readable with only one watt! Around must have been some sort of blackout because all TV carriers totally disappeared except the one from OD5. So Tom went shopping (again?) had a session lying by the swimming pool, and went to an Italian restaurant in the evening. On his return he heard DJ9KG signing with a good signal so he asked himself "what did I miss?". A few more Europeans were worked before everything faded out then Tom went to bed. New calls worked were: SP6GZM, OZ1IJL, SP3VZY, DL7UTS, DL8LAQ, DL7OR, DL4ALI, HB9SNR, F6HVK, G4FVP, DK7AW PA0FHG, DL9AAK, DK0AK, DL8NBE, DL0HEL, PE1MHO, HB9STY, DL1AKN, ON4UE, DL9YEY, DL9LW, DK5JR, PE1MRN, DJ6IG, PE1MZS, DL2DXA, DL1AQI, PA0FRE, SV1AB, DJ0IX, PA3EON, GI0OTC (#1), PA3EUI, F6CRP, GD0TEP, G3FDW G1RMN, PA0AD, GD4IOM, PA0RYS, G8NVX, DK6JL, DJ5BF, G3IJE, G3XGE, DK1KO, OZ1CC, DL8PC, PA3FFU, DK3FB, F1LBU, ON1KCD, PE1FOO, PE1LYT, DL9OBD, PA0HRX, PE1NHY, DL8HCM, F6HSW, PA0NF, PE1OUC, OK1DDO, DL2HWA, have a QSO with Mohammad. OK1TH, DJ5JK, DL4RDR, DL3AMA, and DL6NI.
Friday, 17th June There were no signals at all at 0500z. vertical. The TV carriers were promising at 0700z and 49.739MHz was s9+40dB 50.100MHz seemed to be the best and there was a YO calling CQ. At breakfast Tom was attracted by the sound of bagpipes. The winners of the Amman Marathon race were being honoured in the hotel's tennis court. The Crown Prince, Prince Hassan, (JY2HT) joined them for while. Upon his return to the room, 48.250 was in very strong. This could have been Dubai or Portugal, and worked CT1 and 9K2 shortly after. It was not necessary to turn the antenna because 9K2USA was strong enough on the back. 9K2ZR used the same station which could be recognised by a little instability in their signal. Tom called CQ again to attract the Jas but there was no reply. What a pity!

Working G8HVY is a little easier for Tom

Listen to Tom working PE1OYE with heavy video interference from the local Amman TV transmitter.
New calls worked were: G1HHO, G3ZYY, IK7FGE, IK8IUQ, EH3/DJ3MY, EH3/DL3MGL, G4VPD, EH1DVY/P, G4OJN, LZ3GU, G4LMZ, CT1WW, G0KUX, GI6ECV, CT4KQ, CT1DIZ, PB0AAJ, DL8YV, 9K2USA (#1), 9K2ZR, G1GFQ, G4ASR, G1CZU, ON1LBU, G6HCV, G4LOW, G6LUK, G0SUQ, G3PWK, G7GPJ, G7GUC, G4AFJ, G8WPL, G4YMC, GI4OPH, DJ9ON, G1UKG, PE1OOY, OE2LFA, G0TPA, GU1HTY, G0NAR, 12ELJ, OE4WHG, S58CO, G3PJD, DJ0GA, G8ZRP, IK3TPP, G0TRB, DF0FCF, PA0AMX, PE1MFP, GI4OJG, G8FDE, PE1LCL, PB0AJK, G4DCJ, G7EXW, G4FXW, GI4OWA, G0GCQ, G1SWH, G0MZZ, PA3GPM, G6AUS, G7EWG, GW1MCD, YU7BCD, PA3GAN, G1DFN, G1EMJ, PE1LIF, GW3RME, G0OOV, PA0OOS DL6FBJ, G7BXS, G1FPW, G4ALY, I0XGR, G6MXL, G3ZYY/M (#1 and only mobile - well done Trevor!), G8DYK, G4GPW GJ1TJP, GU7DHI, F6CBH, F5DQK, GU1DWO, SK7BT, G4HFO, SM7FMX, F1YJ, G0YST, G7OGM, G0TPA, GU1HTY, G0NAR, I2ELJ, G7ANY, G1RUY, G1NTW, G7EXX, GW1PJP, GJ1EJC, GJ3RAX, GW4LXO, G1NEP, G7PKM, G7LJD, G0SOO, G0GMS, G1NTP, G8HUH, OZ9NI, G0KAS, G8XTJ, F1DVO, GW7RVV, G1LPE, G7FLI, 2E0AFE, G7PNW G8WZA, G3UFS, G8TIC, G7AZP, G4HZA G4LDR, G8XXJ, EI3EBB, G7PGZ, G1DJI, G4TIF, G7FMW, G1XFR, G4ATX, G0SVN, G7EUY, SP5XML, G7LJN, SP5NZE, F6ARQ, PA0RWH, PA0RMI, PA0GMS, G4GED, G3WZT, F6AUS, F6COW, S52AU, G4ZFJ, DK4FV, OM3CM, DJ2LF, and OK2SBL.

Mike and Paul Arrive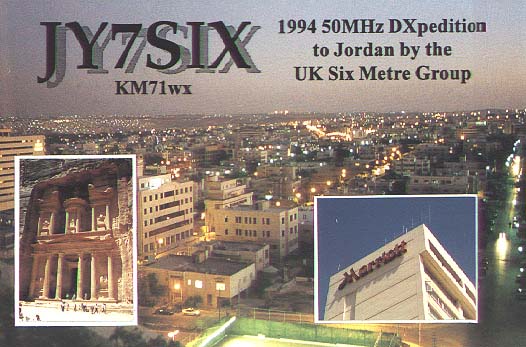 The JY7SIX QSL card
Saturday, 18th June Mike and Paul were expected to arrive in the evening which would mean time to do some sightseeing! Tom's first QSO of the day was with RA3TES. The band was open nearly all day but with much weaker signals than the day before and the percentage of duplicate QSOs flagged by the logging program was steadily increasing. However there was still a demand and Tom was told that there were many stations calling JY7SIX that he could not hear. He always let the logging computer run all day and night because he didn't know how to start it up again if he switched it off. In the evening Mohammad called Tom on the repeater to say that 'CCZ and 'SED had arrived safely. It was the first time that Tom had used the 70cm hand-held and he pressed the talk button very close to the notebook log. The screen blanked out and it stopped working. He was confused but after a few minutes of fiddling Tom was successful at getting the log up and running again. Fortunately, the PC did not seem to be damaged.
Mohammad met Mike and Paul at the airport in the late afternoon. As he drove them to the hotel they were wondering what was in store for them - would conditions last or would they be sitting at the radio listening to white noise for days on end? They walked into room 1533 with a feeling of anticipation - to hear Tom talking to someone on six! That's a familiar voice! It's Geoff GJ4ICD and he's 59 PLUS! move over Tom... New calls worked: RA3TES, OZ1OF, DL1ZU, DJ2ZS, PA3DHK, G3XTI, G3VMJ, EW7IM, OH2AAJ, IV3GBO, DK0BP, OH3AWW, ES6QM, ON6ZX, GW0GEI, OH1LXF, GU2HML, OH1MLD, G1IMS, ES2RJ, SM0FFS, GM4ISM, GM4DGT, G3ZVW, G3WFM, G2CIW, G0AEV, GW4LXO, PA3FBP, SM3NRY, OH2AUK, SM0LCB, OH1VR, PA0LPE, OM3CBR, F8SQ, F5DQK PA0FB, PA3EQK, PA3GOZ, G3ENZ, OK2BGW, ON7YD, DL5FCJ, GX4ANT, G4SJG, ON8RI, G0SWL, PE1MXP, PE1NTE, DJ5VV, DL1IAQ, GM4OBD, DJ6EA, ON4AOI, DJ7OF, S50N, HB9AOF, and I4LCK.
Sunday, 19th JuneTom left early in the morning for his two day tour. Mike and Paul turned on the radio to hear the SV beacon, S9 plus. A first call was quickly answered by SV1BGR, however it was another half an hour before the next reply, out of nowhere came G3TWG! After that a busy day making 67 QSOs, including UU8JJ. New calls worked were: G3TWG, F5MZX, F1JHG, G0RPA, G4RQI, F5LJA, GW2HIY, IK7FGI, PA0LPE, ON4ASL, G4WND, ON4UN, DK0HH, F1LYV, PA0LON, G3APY, GJ7LJJ, SV7BAY, PA3CDI, SV7APS, G7RPY, G7PAZ G7MLY, G7OEC, PA0BHD, G8VST, G8FFC, G3MPN, G3ZIG, F1GXV, F5EOT, S59F, SP8UFT, SP8MMZ, SM6EHY, OK1US, UU8JJ (#1),and UX0FF.
Monday, 20th June Once again the day started with the SV beacon in at S9 plus. however, more than an hour of CQ calls went unanswered until G8VR called to say he had been hearing us for 30 minutes or more! Although a lot was made prior to the DXpedition of not working dupes, it was nice to hear a friendly voice and know we had propagation to G. Paul and Mike's fear was that with all the openings that had gone prior to their arrival most active 6m enthusiasts had worked JY. They spent the rest of the morning and early afternoon calling and listening without success. At 1600 a QSO with GI4OPH heralded the first of 22 G contacts followed by a number of Europeans until the band closed at 1830. They continued to listen into the early hours but nothing further was heard.

After Tom's return, he found Mike and Paul in a happy mood. Though they had only got about 100 more QSOs on 6m they had apparently been successful on the HE bands. Later that day Tom said goodbye to Mohammad who was just about to leave for the conference in Friedrichshafen. New calls worked were: DJ30S, G4PZQ, G1PAM, G6URJ, G6DB, G4FUF, GW4UWR, G1HJW, G3UYM, G0OOC, ON4BG, G10GY, G8YYB, G6UUR, OZ2D, DK0TU, DL7HZ, DL7YS, OM3PC, OM3TGT, and OM3KFO.

This is JY7SIX working G3EDD on cw as heard in Germany
Tuesday, 21st June On Tom's last day he was again able to spend some time at the 6m station. There were still a lot of stations being worked for the first time including EH4CGN and 14XCC and a new country T97V. Mike and Paul spent the evening monitoring 6m without success until Tom's departure in the early hours of the morning- They wished him good luck on his journey home and got into bed at 0300 hours! On arriving at home in Munich and switching on the station the first signal Tom heard was JY7SIX. He said "hello" again and wished them good luck for the rest of the operation. New calls worked were: OZ9NI, G3FHG, S53M, OK2WVV, DL4MDQ, IK2QBX, IK1MTZ, 9A2KL, IK2QDX, EH31H, IK2QEI, F6FRR, T97V (#1), EH2JG, EH1EH, S53FO, F6GPT, EH3MD, EH3EO, EH3KU, 17SWX, F6FEF, EH4CGN/1, and CT1BGE.
Wednesday, 22nd June This morning the band sounded different, no SV or 5B4 beacon, but 4N1SIX was S9 plus. During the day more than 62 stations throughout Europe were worked, although many were duplicates they brought relief to the hours of unanswered CQs. There were no big pile ups, just a slow steady stream of contacts over the course of the day. Mike and Paul were grateful to know the band was open and to receive replies despite only working four new ones. New calls worked were: UX3FW, 9A2QW, F5QE, and F6FE.
Thursday, 23rd, June This was Mike and Paul's one and only day away from the station. At Mohammad's suggestion they took the day trip to Petra - 'what an experience!' They returned to the hotel around 7pm, had a meal, then monitored 6m until 0200 local time, hoping they might work into the States, as the others had done earlier. Sadly, their efforts went unrewarded. New calls worked were: F5QT and S53X.
Friday, 24th June The band opened briefly this morning and 12 contacts were made into Europe. For the rest of the day calling and monitoring brought no results. At 1245Z 4S7AVR called on HF, saying he was hearing TV from the JY direction on 6m. Turning the beam and trying for 30 minutes to work him was to no avail. No new calls worked today.
Saturday, 25th June We had over 22 QSOs in two openings. The first, a brief opening around 0930z brought a dozen Gs closing with a QSO to GM3WOJ. More calling and monitoring until the band sprang into life at 1554Z and a further 10 Europeans were worked. Why is it everyone insists on giving their locator? It must be habit, but several times during this opening (and others!) the delays caused us to lose contacts with new stations. Monitoring into the early hours brought no other contacts. New calls worked earlier in the day were: SM0LCB, IK2QEI, FGKP, I1KTC, 12OKW, IK2RHH, IK2TPR, HB9QQ, F5EAN, DL3JMM, HB9/AB6XT, IN3KNQ, IKlLGV, DLIVW, HB9BZA, F1BRV, SM7AGN, F5DO, and I1NAL
Sunday, 26th June Sundays can be fun! The band was alive with activity and although we only worked 46 stations, there were many more audible that had already worked us and were calling other DX. After a thoroughly enjoyable day the band closed at around 2220z. New calls worked were: IK2DYT, F1HAO, EH3EHQ, SM3EQ, EH3BTZ, G3KEV, GM0NAI, G4DEZ, G01JN, G6FCD, G7HNY, S52CO, I3LDH, S57MM, DL1SGN, 9A1CAZ, S53VV, OE3GBB, DL1SDN, G8LDX, OEGFKI, S51CN, DJ0ACY, DL2HR, GMMFY, G31MW, OE6BMG, GM0ANI, GM7MBT, F8NS, OE6XID, DF8NS, PE1MFB, PA0RDY, and PE1NMT.
Monday, 27th June The day before they left, Mike and Paul made plans to pack up the equipment ready for transport back to the UK. they decided to monitor 6m up to the last minute before going QRT. The band however was completely dead, a stark contrast to the day before. A full day's monitoring and calling brought just one QSO - the DXpedition's last as it turns out - 9H1PA.
Tuesday, 28th June A brief listen this morning revealed the 5B4 beacon but no other activity. Mike and Paul reluctantly pack away the 6m equipment ready for their flight home. After having just three hours sleep per night over the last three evenings, they were disappointed that they have not made a late-night Stateside QSO and also felt totally shattered! Before Mohammad had left for Germany, he had arranged for them to be collected from the hotel and taken to the airport. It was a gesture very much appreciated when they sunk into the rear seat of the car and caught up on some sleep after an exciting and enjoyable experience in Jordan.
Chris Arrives 14th July to 19th July
What can be said other than with any DXpedition of this complexity things can, and do, go wrong and unfortunately Chris found that there were major technical problems that prevented him from operating during his stay in Amman.

We are sorry if we have disappointed some stations who did not manage to work JY7SIX during the month of June. This was most unfortunate but nothing more could be done. However all is not lost! The 6-element beam has been left disassembled on the roof of the Marriott and we have been invited back next year if we wish to go. Also, we thick Mohammad may have caught the 6m bug as he did confide to Chris that he listens to the band every time he enters his shack.
Last Comments
So what memories will we take away from this DXpedition? On the radio front it has to be the high number of openings experienced from Jordan and the often high signal strengths of s9+20dB or more. We all thought it was going to be difficult for Northern Europe to work JY. We were wrong. This makes us realise even more that given a good site, good equipment, and commitment, many other countries on the fringe of Europe could be put on the 6m map in future. With regard to Jordan? Well, there is so much. First of all the friendliness of all the Jordanians we met, this was exceptional. Nobody bats an eye at strange Englishmen equipped with cameras wandering around in shorts even in downtown Amman! English is taught at schools and it is possible to get around without any language difficulty. Other memories have to be the beauty of the country and many archaeological sites that sprinkle the landscape, especially Petra of course. Also, the continual use of car horns is a sound not easily forgotten. To the western eye, the half finished houses with concrete posts and lots of steel reinforcement rods sticking out of many roofs seem rather strange. The explanation is simple though. A family build a storey at a time and when money runs out they stop until either they, or their children, can afford to add another one! So, all in all, a marvellous experience and we all have no hesitation in recommending any of the Group's members to go there on holiday.
The UKSMG and the team would like to give thanks to:
His Majesty King Hussein, JY1, for the generous permission that allowed the UKSMG to use 50MHz in Jordan for the first time.

Colonel Ali Shukri, JY3AK for helping with the formalities of the permits.

Mohammad Balbisi, JY4MB, Secretary of the Royal Jordanian Radio Amateur Society (RJRAS) who spent a tremendous amount of his time enthusiastically helping this group of 6m enthusiasts (who made every mistake imaginable) to make the DXpedition an overwhelming success. A special thanks to you Mohammad, from all of us.

Robin Bellerby, G3ZYE, for the initial help and making contact with the Palace in Amman. We would also thank the Anglo-Jordanian Society for help received. Richard 1yon, Manager of the Marriott Hotel, and all the staff of the hotel who made the stay at the hotel such an enjoyable one. We also like to especially thank him for the significant discount on 5-star room rates, which was much appreciated! We would also like to thank him for his support in allowing access to the roof at all times of the day and night and allowing us to drill so many holes in the parapet to mount antennas!

Royal Jordanian Airlines and especially Emma Bodnosian in the 1ondon office for all their help , especially the reductions on airfares and the 50% on excess baggage. Thank you Emma.

Jordanian people and amateurs we encountered. Jordan is a marvellous country. The people are the friendliest we have ever seen in any country and they really welcome 'guests' with open arms. None of us have any reservation in recommending anyone to go there for a holiday.

Members of the UKSMG for the financial support the Group gave us. This was used to reduce the large amount of money each of the team members had to contribute to the DXpedition. We hope that you consider we spent your money well! We also thank Byron, G6HCV, for enthusiastically collecting money on our behalf. The team would also like to thank you for your restraint in not repeat calling JY7SIX even if this did mean, towards the end, many hours were spent calling CQ without any takers. You showed just too much restraint!

Mike, G30IL, for the 'permanent' loan of the 6-element beam. This is now 'resting' on the roof of the Marriott ready to be resurrected, maybe next year? We hope you don't mind Mike!

Geoff, GJ41CD, and Lawrence, GJ3RAX, for the manufacture and donation of the JY6ZZ beacon.

Last but not least we would like to thank all of our equipment sponsors without whose support the DXpedition would have not been possible:
SMC, Nevada, Icom, Waters and Stanton, Kent Keys, and RN Electronics.

Click here to go back to sponsorship page