Acom HF & 6m Amplifier
One-kilowatt 160-6 m. amplifiers from ACOM, of Bulgaria
WWW: http://www.gw3ydx.demon.co.uk/
email: ron@gw3ydx.demon.co.uk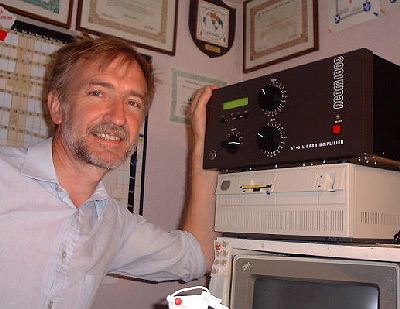 Ron Stone of Vine Antennas with his first Acom amplifier.
ACOM, who built the Alpha / ETO 91b, and who now built the excellent ACOM 2000A amplifier, have manufacured a 1 KW 160-6m manually tuned valve amplifier. The production line for this amplifier starts up in September 2000
The Specification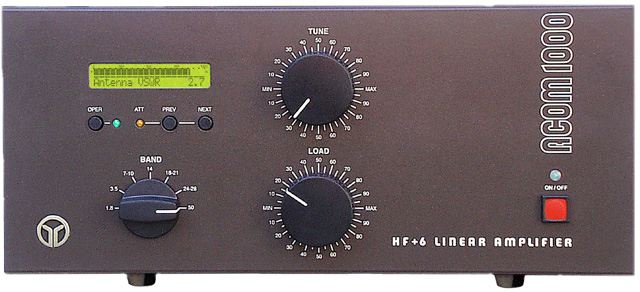 Tube - a single 4CX800 (GU74b) grounded cathode, grid-driven, 1000W output all bands.

IMD's better than 35dB wrt rated output.

Harmonic suppression - 1.8-29.7 MHz better than 50dB. 50-54 MHz better than 60dB.

Broadband input circuit for solid-state radios - less than 1.3:1 input VSWR.

QSK - very quiet vacuum relay.

New digital-display approach for fast, accurate amplifier tuning.

LCD display; many parameters displayed similarly to ACOM 2000A.

Full protection to usual ACOM standard (protected against flashover, high SWR, mistuning, excess grid currents, switch-on surges, excess valve exhaust temperature, etc, etc).

Built-in automatic input attenuator to protect from excessive drive power.

Built-in filter to reduce TVI/BCI, with pi-L output network.

RF deck similar to ACOM 2000A.

Microprocessor control.

Built in RF-wattmeter (operates even when the amplfier not in "operate" mode).

Output matching capability - up to 3:1 VSWR loads.

Dimensions 16.6 X 14 X 7.2 inches, 40 lbs. Transformer may be removed for DXPedition or /p purposes.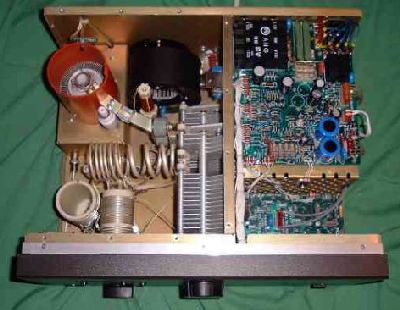 A top view of the insides of the amplifier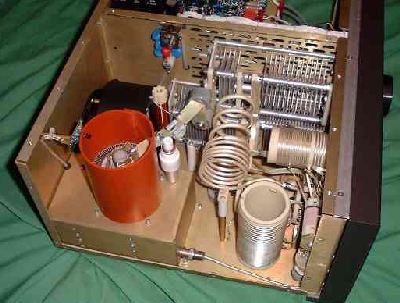 The PA compartment of the amplifier

To return to the Bits & Pieces page click here