The M2 6M7JHV Antenna
Review by Peter Bacon, G3ZSS
Issue 61, May 1999
Visit the M2 Web site
Listen to Dave, N5JHV talking about the
August opening and the 6M7JHV antenna
Six metres is a changing band with more DX appearing on the band being chased by more and more stations. During the last sun spot cycle I was perfectly happy with my six element CL6DX antenna from Create. This allowed me to collect my six metre DXCC with plenty of choice DX logged in all continents.
Last year I came back on Six after a few years lapse from G. I was actually quite busy as V85PB. My first reaction on returning to the band was the high levels of QRM due to increased levels of activity and a general increase in power levels. This increase in local activity led me to thinking of ways of reducing QRM while improving reception. After hours of deliberation I decided to try a new aerial, the M2 6M7JHV with its very clean radiation pattern. The antenna was originally designed for Dave Batacho, N5JHV.
Assembly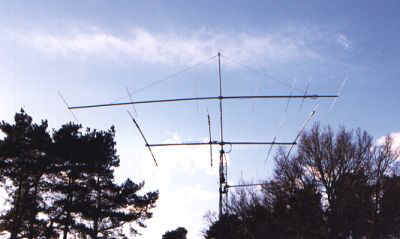 G3ZSS's 6M7JHV antenna mounted above his Create 318 4-ele HF tri-bander.
The antenna was purchased directly from M2 in Fresno, California and I picked it up on one of my many trips to visit my old friend Bob, W6BYA. Actually I had to go to my office in San Jose. The antenna came in a five foot (1.5m) long by 4 inch (10cm) square box, and was readily accepted by Virgin Atlantic as part of my baggage.
The antenna proved easy to assemble, the whole task being completed in a morning. The boom consists of seven sections of 1½ inch (38mm) aluminium tubing. The driven element secures the T-match. The antenna is mounted on the tower and includes an overhead guy system to support the boom. Adjusting the guy turnbuckles proved to be the most challenging part of the installation.
In the photographs you can see the 6M7JHV antenna mounted above my Create 318 four-element HF tri-bander. The tri-bander has a 5m boom to show a comparison in boom lengths. The boom length of the 6M7JHV antenna is 9.37m.
On the Air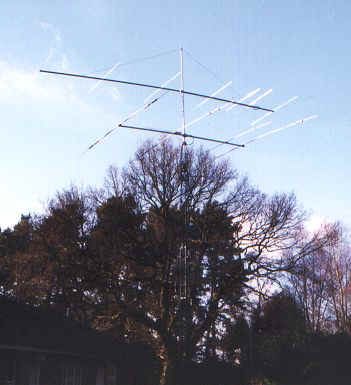 Another view of G3ZSS's 6M7JHV
Before I took down the Create CL6DX I looked for some signals for comparison. I suffer from strong interference on 50.115 MHz which peaks to the South East. I also receive a reasonably steady signal from the Cornwall beacon GB3MCB over a path of 325km. I listened to GB3MCB for a few days to get an idea of reception over time.
Once I put the 6M7JHV up I left the antenna pointed down to Cornwall for a few days and observed the beacon signal, which if anything appeared marginally stronger and more consistent. My local carrier on 50.115 MHz has almost disappeared on some beam headings and is much reduced in other directions.
Having used the antenna now for six months, the main thing I have noticed is the very clean radiation pattern. I can now work comfortably on frequencies close to my local stations due to the decrease in QRM levels when they are off the side of the beam. Furthermore when listening to my locals working DX stations last autumn I am convinced that I can hear the DX much better than these locals.
Summary
In summary, the 6M7JHV antenna has been a very worthwhile addition to my station. Its lightweight construction has withstood many days of battering in strong winds. What sets this antenna apart from others however is its clean radiation pattern and performance characteristics optimised for its boom length. I would not hesitate to recommend this antenna to other serious six metre DXers who do not have a problem putting up aerials with long beam lengths. That is, with the exception of David, G3FPQ, but I have to compete with his monster M2 6M25WL.
The 6M7JHV, along with the full range of M2 antennas are available in the UK from the distributor, Ron Stone GW3YDX (Vine Antennas).

To return to the archives page click here