CY9, Mike's Perspectives


by Mike, VE9AA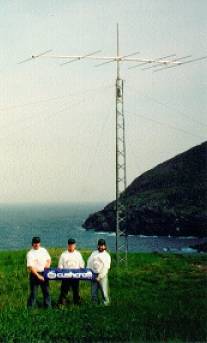 ve1pz/Doug, k7bv/Dennis, and ve9aa/Mike Last summer.
Mike, VE9AA led an expedition to St Paul Island, which lies in the North Atlantic off Cape Breton Island. These are his personal recollections.
Here I sit, a full three weeks after setting foot back onto the mainland and I can hardly believe that Doug, VE1PZ, Dennis, K7BV and I were ever out on that forsaken island. My feet are still peeling from wearing wet, dirty sneakers the first two days and all the walking up and down the sharp rocks and wet smelly bogs that I did, but the aches in my arms and back have long since subsided. I stare at an aerial photo we obtained in Cape Breton, and wonder why we did it. Why does anyone go on a DXpedition?
The idea was reborn to me last July, when I was returning from the CYØAA adventure on Sable Island. The loud buzz of the plane nearly deafening me, I was in trance-like state. I had to plan something for St Paul!

Preparations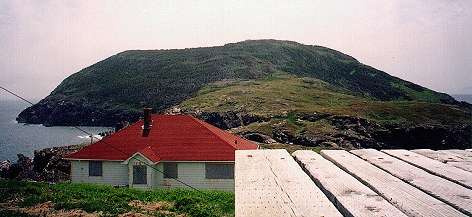 A few years ago, I was a team member of the CY9CF expedition but backed out at the very last minute because of the very real chance I would lose my job. Never again would I let that stand in my way. I would plan too far ahead to let that be a deciding factor. I would take operators who I knew would get the job done, and who would prove to become good friends during the operation.
I asked Doug, VE1PZ in the fall to join the expedition, knowing he had plenty of travel and camping experience, low band and six metre operating savvy, and wouldn't mind getting his feet wet if it came to that. Good thing! We were soaked for the first day or so. Through and through. When asked, his answer was an emphatic "YES!". Maybe he wouldn't have been so enthusiastic had he known the work that lie ahead of him.
Arranging for another op proved to be easy, although I had initially feared it would be an insurmountable obstacle. Not actually knowing anyone else in the area that was interested in going, I had to go outside of VE1/9 to look for an operator. Enter the Internet. This proved to be an invaluable tool, as 95% of all the arrangements were made through e-mail or with help from our UKSMG-hosted web page written by Chris, G3WOS.
I made a daring manoeuvre, and posted an "operator wanted for CY9" message to the DX reflector, wondering if anyone would take me seriously and if I would get any responses. Responses I got. 40 or 50 of them. Some were 'tyre-kickers', but most were fairly well thought out, responsible experienced operators sincerely interested in going. How to choose?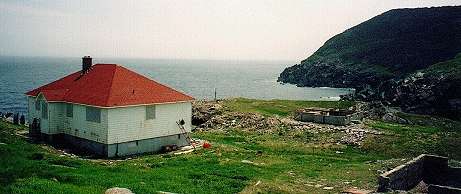 I didn't really have 'set criteria', so I went based on their experience, age and something I might call gut feelings. I knew it would be physically demanding, but just how true that would eventually prove out to be was something I had not really counted on. It is sometimes hard to know what kind of a person someone is just from an e-mail, but occasionally one comes across the screen that you just know will be a great guy. My gut did not let me down, and I enlisted the help of Dennis, K7BV into our little team. He brought with him many years of contest experience, and also a fair heap of DXpedition knowledge. He would prove to be our 'rate man' on CW, and a valuable addition to our team.
We had the team, now we tended to resources. Contacting many of the sponsors who generously donated, loaned, or in other ways helped out last years CY0AA trip garnered us the balance of support we needed. We also added a few items to the CY9AA arsenal, like the Dunestar bandpass filters, which we probably couldn't have done without. A hearty thanks to Ron, N7EA for the loan of them. They worked great! Cushcraft antennas, and QSLs provided by WJ2O would also be welcome additions to our effort. Organizations such as NCDXF, UKSMG, SMIRK, RSGB/Chiltern, FDXG & GJ4ICD (donation of CDs) would help out financially so that we might achieve our goal. All we had to do was go. Sounded easy...
Getting there
We travelled over by a long-liner boat , the 'Heidi M' skippered by Mr Robert Courtney. Robert's knowledge of the seas, weather and rocks proved to be worthwhile as we waited for our opportunity to sail. A day late, we missed one storm and although we landed in another, we later found out that if we had waited yet another day things would have been a lot worse. This writer had trouble keeping his breakfast down, but then I didn't have the experience that Doug and Dennis had when it came to riding 20-25' waves out on the open water. I thank them for not laughing at me, as I looked closely at the inside of a giant rubber pail!
Landing the gear was very cold, windy and wet! Early on, I told Dennis (a western or southern boy most of the time) to 'be prepared for cold' even in late June/early July. Mostly I was playing it up quite a bit, teasing him, and trying to make it seem quite a bit like the Arctic up here all the while hoping for the usual tee-shirt and shorts weather we normally see in the Maritimes around this time of year. Little did I know Mother Nature would see to it that those words would come back to haunt me. While landing, and at least for the first few days, I usually wore two tee-shirts, one sweatshirt, and a light fall jacket. All the while, in Halifax, Nova Scotia, folks were out on the beaches enjoying hot temperatures!
Up the hill.
All the gear (two carloads and one truckload, well over a ton) had to be hoisted 8-10' into the air, up onto part of an old ramp that was a piece of a wharf that had long ago broken up and had been washed to sea. It had every other board missing and was quite slippery when covered with wet sea water in the salty air. Balancing yourself on that, while carrying 100lbs of gear in a 65 gallon tub proved to be tricky, but not impossible. The next leg of the journey was across 100 or so feet of sharp jagged rocks, uphill, with the odd puddle of standing water or where fresh rainwater had been collecting that day.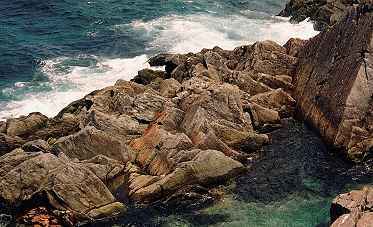 Now the really hard part. Once you were out of breath, and your ankles were sufficiently shaky what with all the balancing acts going on, it was then up several levels of hills that alternately had old sewage fields in them. There was no way around them, and our footwear and pantlegs took a beating. Unfortunately, the huge and sturdy boardwalks that at one time covered the North Island of St Paul were missing. Here and there was a piece of the large timbers laying about reminding us of what a nice stroll it would have been, had they still been service. Guess we were about three or four years too late.
Almost all of the gear was brought up during the next 10 hours or so, one piece at a time, with hardly a word being said. We were three workhorses slowly plodding along, enduring the driving rain and near freezing temperatures in total silence.
We knew what we had to do, and after coming this far we were not going to give up easily. I don't even think we stopped for breakfast or dinner until most of the gear was inside, and it must have been very late when we finally fired up the stove for a big bowl of stew and some St Paul Island coffee so expertly made by our self appointed chef, Doug. He looked after our feed needs most all of the time, and unless sleeping or knee-deep in a pileup could be found fanning the flames on the Coleman whipping us up meals and hot coffee that we needed to keep the pileup machines running. Bon apetite!
Once the last of the gear had made it inside, we quickly made a table and plopped ourselves into our operating chairs. It was agreed to get all three stations operational before even one guy called CQ. I remember thinking that it was a little what Heard Island must have been like, less the famous lawn tractor. I saw my shaky hand reach for the key. I was just too whipped for SSB. The time was very late at night. We had been walking up the hill since 9am or so...
The radios/pileups.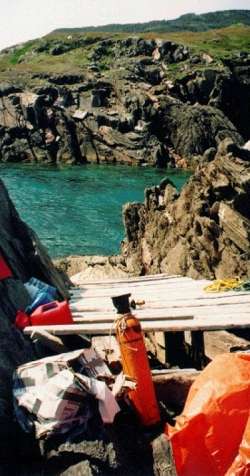 I found the pileups quite orderly for this expedition, with only the occasional operator screaming his 'last two' letters into his microphone and never letting up on the mic button. I would like to have a chat with the gentleman or lady that started this 'last two' procedure. I think most will agree that it is entirely counter-productive to any kind of pileup management whatsoever. Maybe our saying 'full calls'
every other call helped somewhat. Believe it or not, I actually had one guy send his last two on CW to me about the third day out. At that point I was too tired to argue and merely dismissed it, and went on working the pileup (anyone know how to say "full calls only" in Italian?).
On six metre scatter, most ops were savvy enough to send calls and reports only but there was still the odd one that wanted to tell you the wx, his rig, grid and all of that on a three second burn! I was still surprised (after doing CYØAA last year) at the number of ops that said "thanks for the new grid", even though I only gave it about every five or six QSOs. Guess many still didn't realize that they had just worked another separate DXCC country! Oh well, it was still fun.
On HF we made 11,725 QSOs but on Six we made only 275, despite an excellent QTH, tower, big Cushcraft beam, 500W, IC736, high grade coax and a never ending beacon calling into the ether on 50.101MHz. Every day we had hours of EU video on 48.250 etc. but only heard EH7KW/B for about 10 seconds one day. MMØAMW reported a snippet of our beacon, and we squeaked out a QSO with CT3FT.
This was the most disappointing part of the whole trip for me. After the first day or two, I think the look on my face told the tale and Dennis and Doug were very supportive until the end, always trying to lift my spirits when it came to six metres. Not that I was depressed, but they could sense my eagerness for a six metre opening and I know they felt my disappointment when none came. Many goals were realised except working lots of our EU friends and supporters on Six. We had prepared ourselves with the best arsenal of six metre gear available, and two of our three man team were die-hard six metre ops from the region, yet the propagation gods did not let loose with very much E-layer DX for those fateful days.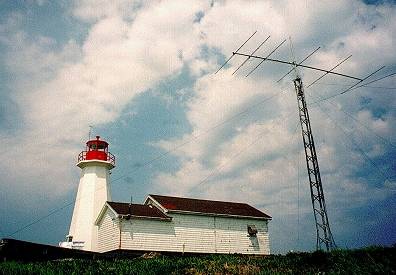 For LF/HF antennas we had dearly hoped to include an already existing ex-VLF beacon tower to hang antennas from and also to load up on 160m. Evidently someone had other plans and we found most of the North Island's structures burnt, dismantled or otherwise destroyed. The lightkeeper's house, although not very clean, was in quite good shape as was the actual lighthouse and its outbuilding which we did not have access to.
Luckily for us, lowbander specialist Doug had the foresight to include a tank of helium and asked me to bring a roll of wire "just in case". Tying that balloon vertical into the partially existing ground radial field gave us a pretty good signal on 160m. It was nothing to have the G-boys tell us we were the only thing in NA (besides VE1ZZ/K1ZM) that they were hearing - and 20/S9 reports sometimes, at that.
The 160m vertical, most times, was actually leaning out over the salt water! Talk about a Fresnel zone. Unfortunately the strong winds broke our balloon and also our backup balloon, so we used the Carolina windom on 160m for the remainder of the trip. It also worked quite well, despite its awkward location kind of strung between two poles in the hollow of the North Island. Complementing those antennas were two R7000s for all HF bands and a 40m dipole by CC on a short pole, just on the edge of a cliff on the NE corner of the island. All the CC antennas performed flawlessly and helped us obtain our 12k QSOs.
Conclusions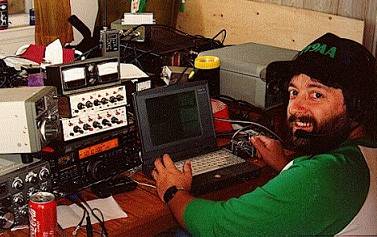 Mike, VE9AA on the mike!
We all set personal goals and even team goals before we landed on St.Paul. I had hoped for slightly more QSOs, but given the degree of difficulty of the landing, the ongoing bad wx, one to two days of an auroral disturbance, leaving a day late and being forced to pack up half a day early, I'd say we came as close to achieving 'the numbers' as we could.
On a more 'new one' or 'new one on xx band/mode' note, we really did well, I think. Looking at the sheer numbers is one thing, but if you look at the band/mode breakdowns, you can see that often times we sacrificed a 'sure thing' run on 20m or 40m to call CQ and work a few during some fleeting sporadic-E openings on 6m/10m/12m. Doug battled it out nightly on 160m and put CY9AA in hundreds of peoples' logs, hopefully for a new one in some cases. Hundreds were worked on 12m, possibly for the first time from CY9 (?). 275 stations were worked on six metres, many for a new one, and even at least one guys' #100th country, (Tommy, W7RV, our best DX on Six)
I had explained to the guys going into this that 6m/160m/12m & 10m would take priority and they certainly didn't let me down. We helped fill a lot of gaps in peoples' logs. Even hundreds of Japanese worked us on 20m/17m at the bottom of the cycle. That made us all feel really good as we know that CY9 is pretty hard to come by over there, especially in 1997.
I feel satisfied knowing we did a good job and learned a few things in the process:
• Plan well ahead.
• Don't let the two metre rig get soaked with sea water or you won't have a packet-link to the mainland or be able to work guys on two metre SSB.
• Always, always bring bandpass filters (which we did).
• Bring large assortment of good antennas.
• Bring a backup laptop (good thing, as I broke mine)
• Bring lots of water (but not too much).
• Bring spare footwear so you won't have to wear wet sneakers for two days! (Oh, did I learn this lesson well... ouch!)
• Forget about swimming trunks, tee-shirts and shorts when Dxpeditioning out in the Atlantic. Didn't work for CY0, and certainly didn't work for CY9.
• But most of all, bring along people that you can get along with, that have the same goals as you, and are prepared to have fun after the initial work is done!!
QSLs for CY9AA go to: Michael & Coreen Smith, 271 Smith Rd, Waterville, Sunbury Co, NB, E2V 3V6 Canada.

Click here to go back to the CY9 Dxpedition page