5B4/G0JHC, holiday with radio ('99)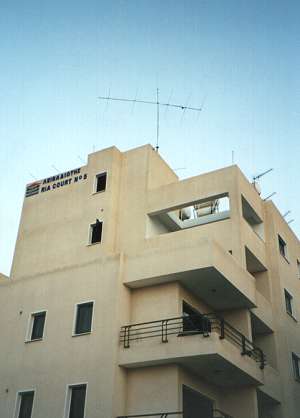 5B4FL / G3KOX's 5-element atop his apartment in Larnaca, Cyprus
Earlier this year Nick, G3KOX (5B4FL) kindly offered me the keys to his home on Cyprus while he was back in the UK for a couple of months. I decided (along with the XYL) to go out for two weeks at the end of July, a little late in the Es season but this was not really a radio trip, just a holiday with the odd operating slot thrown in.
The only item I had to carry out with me was my own memory keyer – for once, little to think about in advance.
On arrival it became obvious why 5B4FL does so well from KM64TV. He is situated on a small plateau, not far from Larnaca airport with the sea just a few hundred metres away. The only obstructed direction is back into Europe over the Troodos Mountains, but they are far enough away to be of no real concern. On top of this Nick has been able to get his antenna above the apartment block (see cover photo) and runs 200W.
I don't want to bore anyone with lists of what I worked between July 29th and August 11th 1999, but the band was open most days around my operating times of two hours in the morning (before the beach) and two hours later in the day around sunset. There were a further two days when the sun had got the better of us both and operating times were extended. In total 42 DXCC countries were logged and 350 QSOs made, 80% CW and 20% SSB. The first G was Trev, G3ZYY; just 15 Gs were logged, along with about 30 other QSOs I would class as 'double-hop'.
Of course we are all aware that six metres never opens when you have time on your hands and always does, just as the one 'non-negotiable' event of the day draws near. There was one occasion when this was most frustrating as the band had just gone double-hop to the UK; unfortunately I had ordered a taxi to take us to the port as we were booked on the overnight crossing to 4X. I was still logging Gs when the cases, and driver were in the lift, the XYL had the key in the door – as I stated 'non negotiable'. I must apologies to G4PCI who's call it took me an eternity to get right - that's because I was trying to work you between putting the cases in the lift and shutting windows!
I guess most of us spend a lot of time chasing 'DX' but when the opportunity comes to be DX it can sometimes be quite a different (stressful?) experience. I'd like to share a few experiences with you on what made me come close to booking myself into the local stress counsellor. Maybe it's worth asking ourselves, from time to time, how we can make life easier for the DX during pile-ups? I will certainly be drawing on my experiences.
(1) One of the reasons I stayed on CW was due to having great difficult in getting much of (Eastern) Europe to understand the "/" in the call, can someone from that area advise 'Six News' what to say when difficulties arise? The word "stroke" seems to confuse the majority, it was not uncommon having to give the call 4 or 5 times (with S9 signals) just to get the "/" bit of the call right… of course this isn't an issue on the key.
(2) I was surprised and frustrated at the number of stations (maybe 20%) that insisted on repeatedly asking for the last two letters of my locator (I gave out KM64 with every other QSO), quite a high number even prioritised this above getting the call correct.
(3) The repeating of my call two or even three times and then giving their call only once, and I'd miss it in QSB.
(4) The frustration at not wanting to use 50.110 MHz but being 'forced' into doing so. What I tried to do was get an answer on 110, work that station, then announce a QSY (to say 117). I would move up to 117, work maybe one or two more then that was it. I would go back to 110 and immediately get another pileup… and this loop continued for two weeks.
I was very pleased to work over 50 different Ukrainian stations, the perfect distance from 5B4. Signals from there were by far the strongest, often 59+ all day, and this did at least prove to me there is activity from this part of the world! Why do I say that you may ask? Well I suffer big time from the 'doughnut effect' back home in IO83 as UB is 2200-2700km, with the majority of those active at about 2500km. If I work four or five a season I'm happy, so it was a pleasant change to chat away.
The band to Africa was very limited due to the time of year, all the regulars were logged around 30 minutes after sunset but openings lasted no longer than 30 minutes. Checking the cluster at the same time often indicated north Europe had much better signals from 7Q/Z2/9J/5H on Es/TE link than I was experiencing and often for much longer, which I thought was interesting.
My last QSO was with HBØ/HB9QQ at 12.47z on 11th August, thanks for country number 42 Pierre. Again the bags were packed, the flight time was 90 minutes away and I was just putting out my last CQ before close down (or at least I thought I was – read on!), and you guessed it the band opened double-hop! I wasn't expecting quite as much fun so late in the season, pity I never heard another 5B4 station, which did surprise me.
As I mentioned earlier the only item I took with me was a memory keyer, although I've travelled around quite a bit, I have never been pulled up at airport security before, even when piled down with large amounts of kit. However the hand luggage security officer didn't like the look of my bag on her scanner and asked me what electronic equipment I had… well how would you describe a CW memory keyer? Next thing I new she was blowing a whistle and two police officers turned up, neither of whom spoke much English (or that was the impression I got at least). I offered to give them a demonstration of my equipment and they nodded, after emptying my bag and finding the key, my last CQ was actually was made at 16z from the airport conveyer belt! This seemed to do the trick and I was let on my flight home.



To return to the archives page click here